All the sales information you need right at your fingertips
As an internal sales representative working at your company's call center, or starting your next cold-call campaign, you desire instant access to key up-to-date information regarding your target prospects.
The Desktop Sales Explorer (DSE) allows you to swiftly search through hundreds of millions of consumer and business related data records in seconds, and offers pre-compiled key account and company details, related news stories, campaign data, industry content, competitor reviews, propensity to purchase, and more.
Sales representatives get immediate access to key prospect/customer data to easily fine-tune and personalize sales conversations — not to just read a script and robo-type results.
MORE INFORMATION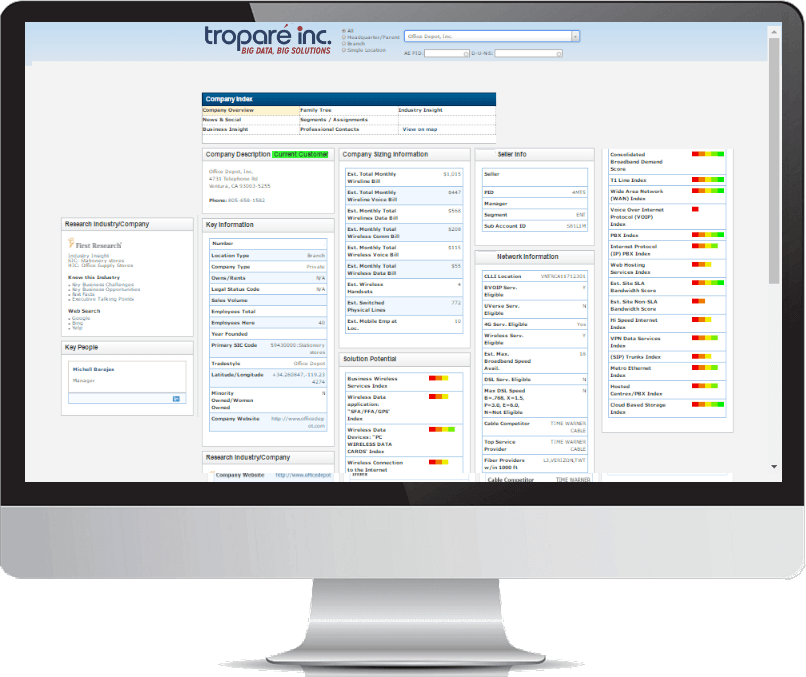 Ready to get started?
Contact one of our Representatives Today
LET'S GO
Be prepared for your next call

Get instant access to easily formatted, detailed information that will initiate quality conversations, spark engagement, and increase closing rates.

Streamline your workflow

Instantly search, review, prioritize, and save leads, create micro-targeted call-lists, add notes and call transcripts, schedule appointments, and organize your approach from a single interface.

Update & unify your sales cycle

Communicate with sales representatives in the field, efficiently share notes and updates, send messages, schedule appointments for field sales reps, push 'alert' notifications, and more.
© TROPARE INC. 2014-2022 ALL RIGHTS RESERVED.